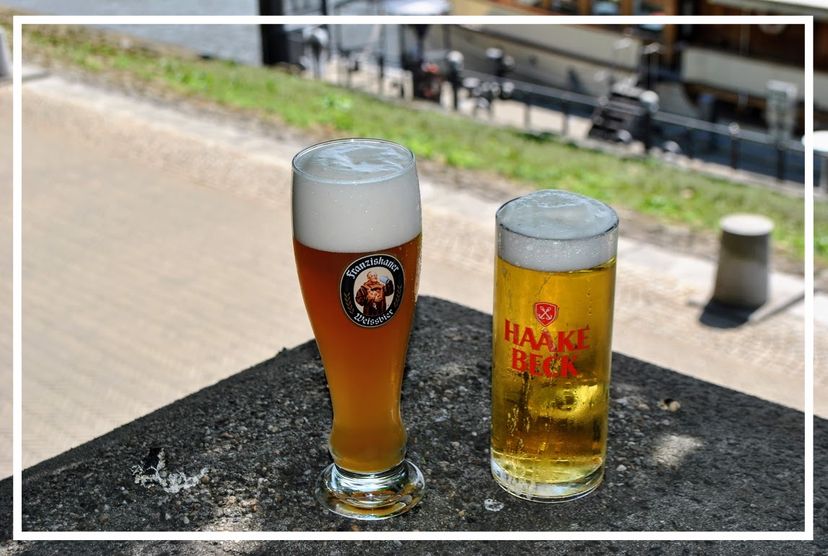 Germany is a country where beer is grately praised and served everywhere. Beer is the Germans favorite drink and drunken by 67% of the women and 91% of the German men.  It is no problem to drink beer in public as long as you are 16 years old. From this age on you can buy beer everywhere in Germany and drink it whenever and wherever you want. In some Cities there are special restrictions for restaurants and bars, where you can only order beer when you are 18 years old. This is also the case in Bremen, my hometown.
In Germany we have more than 5000 brands of beer and for some brands it is very important to drink it out of the right glass. For example: You can't drink "Kölsch" out of a Bavarian "Maß". It just won't work. But don't worry, if you buy beer in a shop you can be sure that it will also taste fine right out of the bottle.
When you come to Germany and want to drink some beer, you should taste a local one. The typical brand for Bremen is "Becks" or "Haake Beck" and in Cologne you should try a "Kölsch". Wheat beer is mostly and best drunken in Bavaria or southern Germany, as well as dark beer. If you don't like the bitter taste of beer I can recommend a "Alster" or in southern Germany "Radler", which is beer mixed with lemonade. It is a really refreshing drink especially on hot summer days. If you don't want to drink alcohol, just taste one of our thousand alcohol free beers.
The most complicated thing you can do is pour a wheat beer (Weißbier) in a glass. So I have a step by step tutorial for you, if you'd like to learn it. You just need a wheat beer and a large glass.
Pour a wheat beer
1. Hold beer and glass nearly horizontally.
2. Stich the bottles neck inside the glass.
3. Tilt the bottle up and let the beer pour out slowly, otherwise the beer will explode into a mess of foam.
4. Pull the bottle out of the glass, when it is filld with two thirds of  beer.
5. Pour the rest of the beer faster and create a beautiful head of foam.
6. Keep a little bit of beer in the bottle, swivel the bottle in circles and pour the rest into your glass.
7. Enjoy your beer!