In May I was traveling a bit in Germany, including in Saxony. Why Saxony? First of all it is far away from everything I know, Saxony is in no way like Northern Germany, and second because I had seen some stunning pictures on Pinterest that were really convincing. Mainly I was going there because of the Bastei Bridge, but more about that later. On my trip across Germany, my boyfriend came with me, which was a good decision, because without him I would certainly still not be at home and would most likely have gotten lost to a country like Russia.
On the first day, we drove from Bremen to the East, and I really mean the East. The Czech border was not even 5 kilometers away from our campsite in Sebnitz. The afternoon we also used directly for hiking. In the village where we were there is a panorama path, which is reasonably well signposted and  we did not get lost so often. The view was pretty cool, not spectacular, but there was a lookout tower and a historical trail, which really enhanced the way.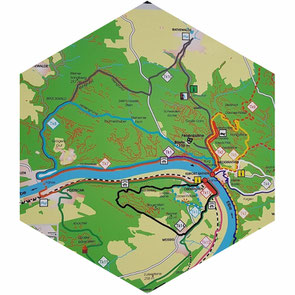 On day two we went to my actual place of interest. I had seen pictures of the Bastei Bridge on Pinterest and was immediately blown away. I've never thought that this bridge could be found in Germany, at least not when I saw the pictures. For our trip we drove to Rathen, from where you can walk very well to the bridge. We did not have our own hiking map, but there was a big map in the center of the village, which I photographed.
Our plan was to follow the blue trail, which seemed to me the most touristy and I thought I would see most of the interesting stuff there. We made it to the Bastei Bridge in any case, then we got completely lost.
The best way to see the Bastei Bridge is to pay entrance to the castle ruins and stand on one of the platforms. I would recommend anyway to enter the castle, but I must admit that it in this ruin  you can hardly recognize anything without signs. The entrance fee is 2 Euros and you really should not save them. The castle was home to 300 people and was an important refuge during the Thirty Years' War.
The Bastei Bridge was built in 1826 and is in contrast to all expectations rather small and crowded with tourists. Compared with what I had seen on the internet, just a normal bridge.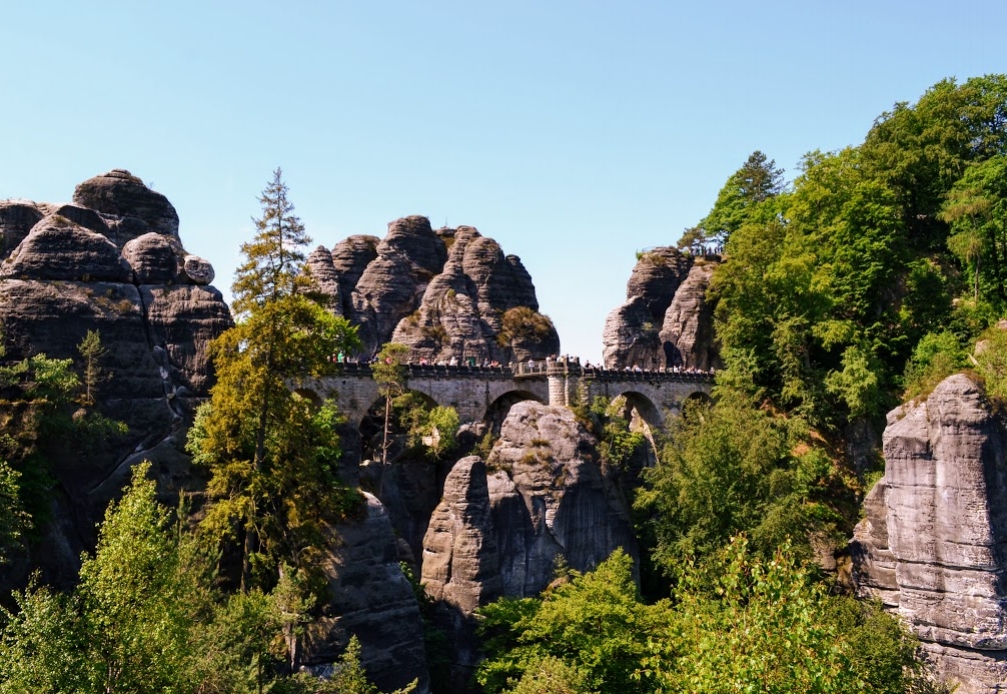 Nevertheless, you should not underestimate the Elbe Sandstone Mountains. The view and the nature are just breathtaking and absolutely recommendable. Of course it is exhausting to walk up the mountains, but that's really worth it, only I can advise against starting this activity at 30 ° C.
In the spring or autumn, I would definitely come here again.
After our hiking tour we went to look at the castle Königsstein. A really impressive castle with a great view and a very interesting permanent exhibition. During the GDR period, for example, the castle was used as a boarding school for the "political education" of young people. The entrance cost 10 euros, in my opinion, a pretty proud price, but you can really spend a lot of time and see a lot.