Before I traveled to New York, I was not particularly into the American kitchen. Maybe because it's kind of similar to the German cuisine, or because with "American" I mostly associate burgers, steak and everything that's unhealthy. I have been confirmed in some of the prejudices, but I have to say that I really did not focus on a healthy diet in that one week.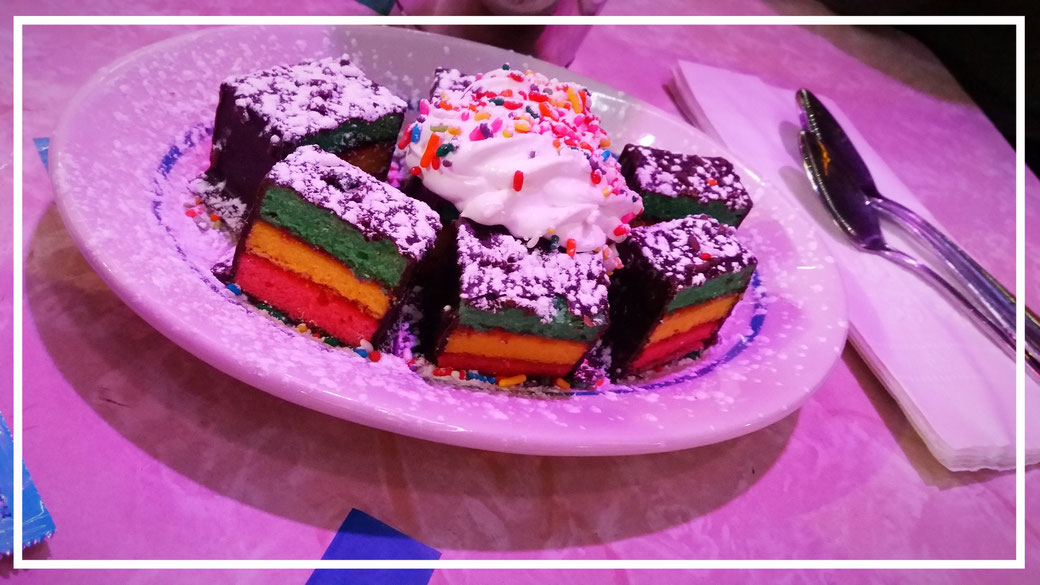 Hard Rock Cafe at Times Square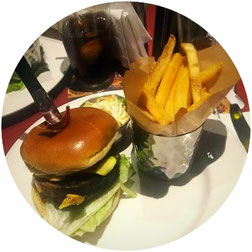 A visit to the Hard Rock Cafe is an absolute must, no matter where in the world I am. Since I was in New York, I even collect T-shirts.
The great thing about the Hard Rock Cafe for me is that there is something to eat for everyone, but you can also try something that is inspired by the local cuisine. Well, burgers in America, what do you have to do to make a difference?
I was surprised that the calories stood behind every dish. That did not really make you feel good, but at least you knew how many rounds you still have to be turn through Central Park to get the burger off your hips.
Ellen's Star Dust Diner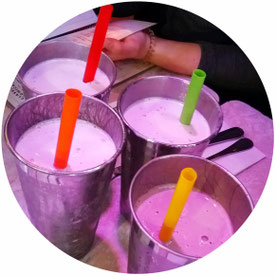 My absolute highlight of the entire trip was the Ellen's Star Dust Diner. I can only recommend anyone who goes to New York to eat here. In the diner musicals are sung all around the clock and not from amateurs. Singers seeking a career on Broadway work here to fund their education. So there is a lot of show.
The food is not to be scorned. In addition to delicious burgers, salads and milkshakes, there are the Rainbow Cookies here. You can already think, these are the ones in the picture above. Even though I was about to burst, these cookies still fit in and I was super happy to have experienced this explosion of taste.
The Nutella Bar at Eataly
A piece of heaven on earth for all Nutella lovers is located on 5th Avenue, across the street from the Flat Iron Building. Eataly is a wonderful place for any gourmet, but the Nutella Bar is just amazing. Who is on a diet should avoid this place in any case, because even a latte macchiato with Nutella Topping has like 5000 kcal. It is worth it!
I even went there twice during the one week trip because I liked it so much. Especially tasty are the waffles with fruits and Nutella. Sure, you can eat something like this at home, but let's face it, everything tastes better on a vacation!
I'll take you to the candy shop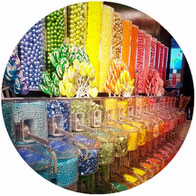 You can get enough of sweets, but you can not see enough in Dylan's Candy Bar either. This is located on 5th Avenue and worth a visit. Not just to try crazy American sweets, but also because the store looks really cool.
The sweets  sorted by color already caused an absolute overstimulation. In addition, at the time I was in New York there were overly cheesy Valentine's Day offers. I could have spent hours there.
Giant Pizza at Anchovis Pizza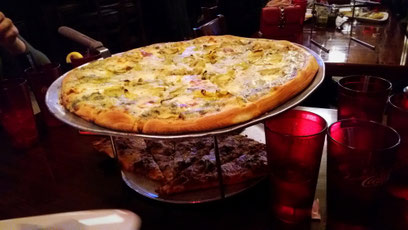 In Germany, it is rather unusual to order only a piece of pizza, at Anchovis Pizza a piecealone is already  a challenge. There were four of us and we had 1.5 pizzas. We got a third of it packaged because it was just too much.
In terms of taste, this pizzeria is in the upper third, I would say. The price-performance ratio is not quite right, in a positive sense. For so much pizza I would certainly have paid more in Germany.
What you may better know
In America you give more tip than in other countries. As the waiters are usually dependent on this tip, you should pay this. Usually you will find an indication of a reasonable amount of the tip on the bill.
Usually you get a free glass of tap water in every restaurant. In America, however, the tap water is kept clean by chlorine and therefore it tastes very much like a swimming pool.