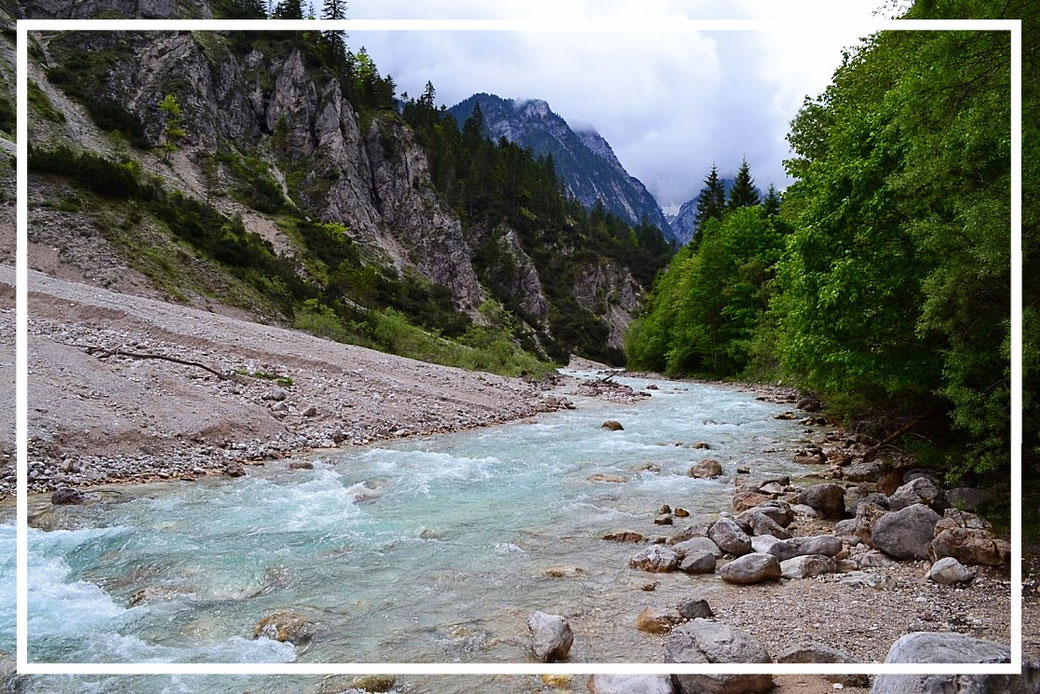 For me, the mountains have been the most unattractive travel destination I've ever imagined. As a North German I need the sea, or at least a lake, or a big river, like the Elbe. I do not know why, but it just did not attract me to Bavaria. Until I saw pictures of the Partnach Gorge, which fascinated me immediately.
A gorge, or Klamm in German,  is a narrow valley throughthe mountains and there are quite a lot in southern Germany, Austria and Switzerland. Why the Partnachklamm attracts so many visitors I can only guess. Maybe because you can walk from here to the Zugspitze.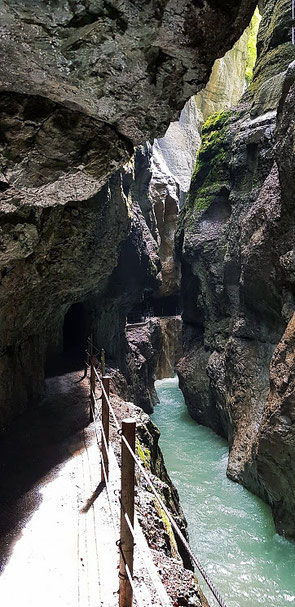 If you want to see the Partnach Gorge drive to Garmisch-Partenkirchen, which is about 1.5 hours by car from Munich. I would recommend this excursion to anyone who plans to go on holiday in Munich anyway. Garmisch-Partenkirchen is also beautiful, but I think more suitable for families who prefer to have their peace.
Parking
In Garmisch Partenkirchen, at the ski stadium, you can park super cheap for less than 3 Euros for 12 hours. There are also plenty of parking spaces available and on the way to the gorge, you can see the stadium and maybe even a few ski jumpers training.
Entrance fee
For the gorge you have to pay 5 Euros entrance fee, but I think that's perfectly okay, especially because the parking is so cheap.
The trip
In the gorge it is pretty wet, because everywhere water is splashing from the walls and down the Partnach (the river) runs. You can not really fall into the water here, but I would not risk it. The hiking equipment should therefore definitely include a good rain jacket, unless you don't care about getting wet. Unfortunately, umbrellas are not suitable here at all, as the ways are often too narrow.
Unfortunately the way is not really barrier-free. With the wheelchair it could be really hard, even if the way is mostly fixed.
The path through de Klamm takes about 20-30 minutes, depending on how many people are there and how fast you walk. Behind the gorge, there are still some hiking trails from which you can hike to different pastures or even to the Zugspitze. The hike to the Zugspitze takes from there allegedly 10 hours, but I have no own experience. But I'll definitely go on a hike to the zugspitze once, bacaause contrary to everything I've ever thought, the mountains catched me. 
Food and eating out
I recommend anyone who wants to spend a day here to bring enough water and something to eat. On the mountain pastures, of course, there is something to eat and drink, but I can only say inform yourself about the route and the opening times. It really sucks to walk three hours to a mountain pasture, to realize that it is too far away, to return back where you started, to decide on another mountain pasture and to arrive there just to realize that this day it is closed.