* unpaid advertisement
I have never thought that the longest rope suspension bridge is located in Germany. In fact, it can be found in the Harz, a mountain range in east Germany. As I wanted to drive to the Harz last Sunday anyway, I had the great opportunity to cross the bridge myself.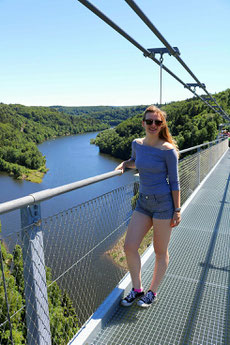 The 483 m long bridge is located in Elbingrode on the so-called Rappbodetalsperre. The dam looks really good from the bridge. So you can really enjoy the view.
The walk is only about 1.20 m wide, so it is advisable to go over the bridge as early or as late as possible, if you do not want to share the place with many people. Even on a Sunday noon it is possible to walk over the bridge  relaxed, but you are definitely not alone.
Anyone who is afraid of heights should think carefully about walking over the bridge, because the it is not only high, but also extremely rocking. The first steps I felt like I was drunk. In addition, there is a fairly strong wind.
For an adult, the entrance to the rope suspension bridge costs 6 Euros. You can get a ticket at a machine. Family or group tickets can only be purchased at the visitor center.
If that's not adrenaline enough, you can still give yourself the absolute kick in "Harzdrenalin". Here you can either fly over the river on a mega-line and feel like Superman, or experience a 75 m deep pendulum jump on a Gigaswing. I have not tried both because it is really expensive with 40-150 euros.