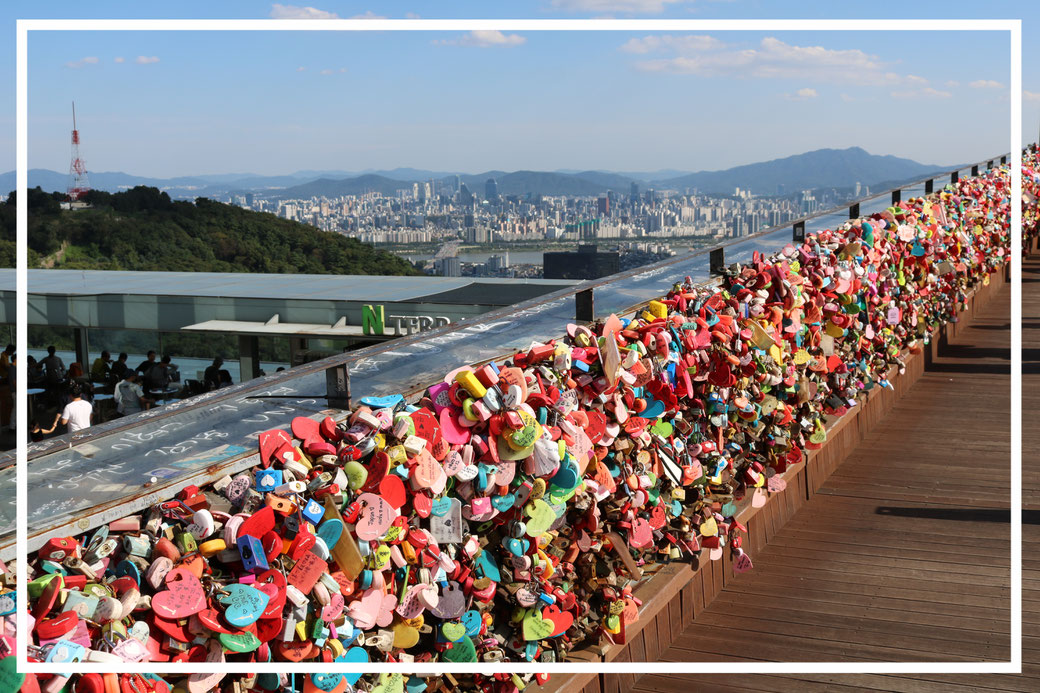 Surprisingly, I did not get a jet lag in Seoul, which made me really happy because I was able to use the whole day without getting completely tired or oversleepe in the morning. Because I'm a little control freak, I did not have time for a jet-lag anyway - the vacation was already planned from start to finish.
Our first destination was Gyeonbukgung Palace, as it was not far from our hotel by foot. Already on the way there, you could see that many tourists come here. Most of the signs were also written in English and you often had the opportunity to borrow traditional clothes, which is actually a big deal in Seoul , I found out later.
What fascinates me every time in Asia is the architecture. Not only the new fully glazed skyscrapers, I especially like the old palaces and temples. The Gyeonbukgung Palace is one of five palaces in Seoul and even if it does not look like it, it is the most spacious. I was really excited about this place at first sight.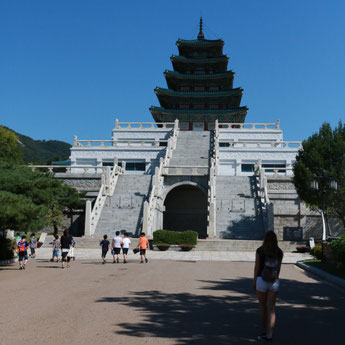 What I noticed first is the many young women who walked in the hanbok (costume) through the palace and the gardens and made photos of themselves there. There were also men in traditional dress, but they were definitely outnumbered.
It is probably worth considering opening a dirndl rental shop at Oktoberfest. If Hanboks are really a thing, especially for tourists, that can be a good business in Germany as well.
At first glance, the palace did not seem that big, so when we looked for the exit, we first realized what we did not see. That was simply because we did not enter through the main gate, but directly at the Natinal Folk Museum. That was included in the price of the palace and was well worth a visit. Here we learned a lot about the Korean culture, the clothes, the traditional medicine and the food. There is also a Palace Museum, but we missed it.
We got a combined ticket for all five palaces, so we went on to Changdeokgung Palace. It was very easy to reach by foot from the other palace. The first thing my boyfriend meant when we were there was, "Great, it looks just like the other palace."
He was somehow right, but it's not always about the palace, but also about the gardens and attractions surrounding it. Here was the Secret Garden, which I would have liked to see. Unfortunately, this is only possible with a tourguide and we would have had to wait for half an eternity. Because the enthusiasm of my friend was rather limited, I decided that the Secret Garden would be a good reason to come back again.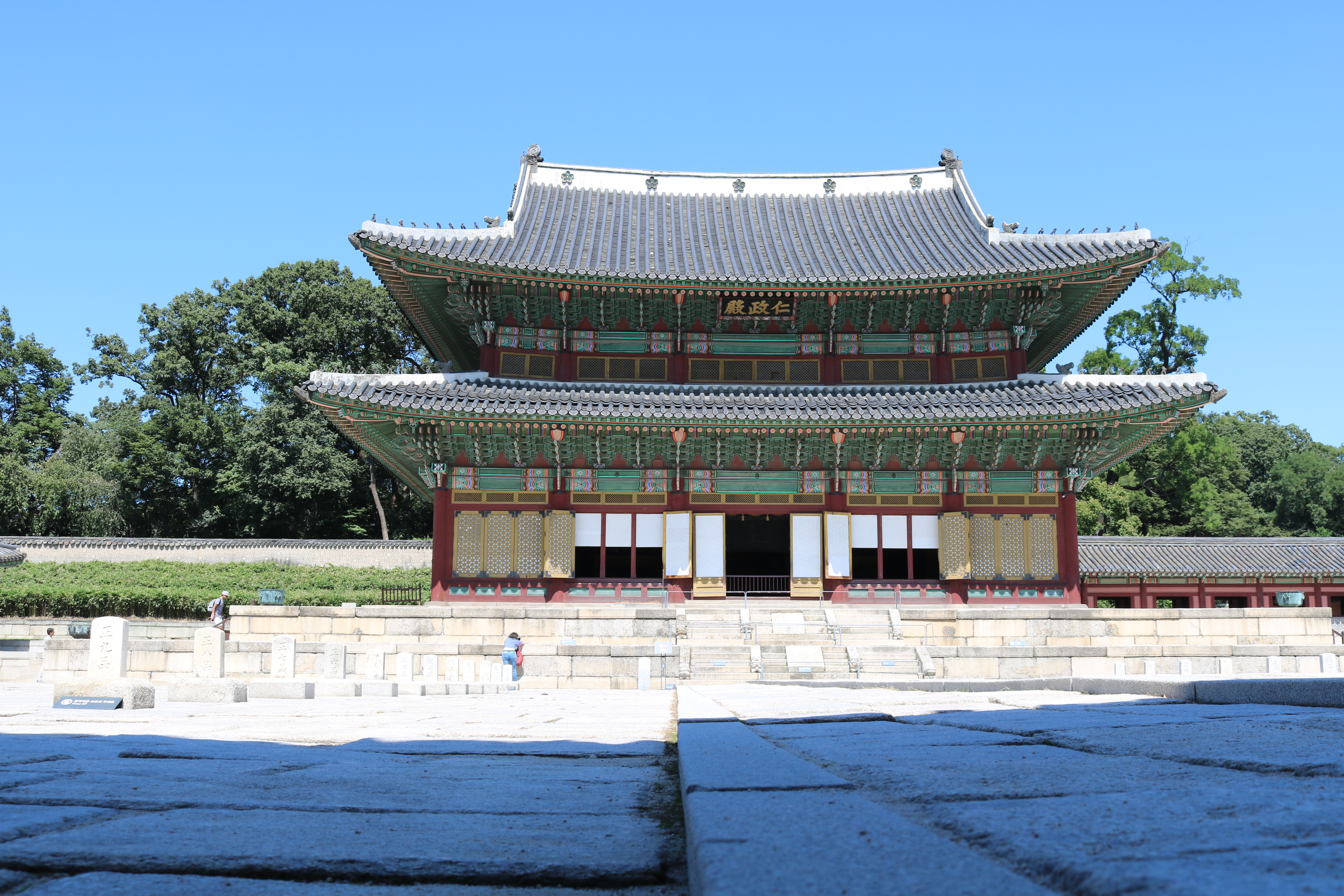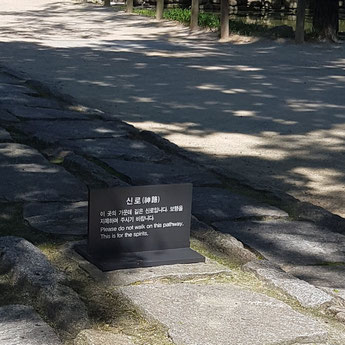 The third and last palace for the day was the Jongmyo Shrine. This one was in some way connected with the Changdeokgung Palace and is a shrine for dead kings and queens. 
When you go through the entrance, you'll see a a path that is decided into three parts. It is forbidden to step on the middle part - this belongs to the spirits. This whole "Spirit Theme" is really a thing and you can find it at any palace. At some gates they even let the middle part closed, which makes sense, a ghost can step through the gate anyway. 
In the ancestral hall 19 Kings and 30 queens are immortalized by stonepanels. Okay, these are quite a few spirits, I totally agree that they need their own way. 
Three palaces are really enough for one day and to be honest, they are not the most spectacular attraction in Seoul. So we went on and made our way to Namsan Park. 
I can't remember the last time I saw Boys over flowers, but there is one thing I'm pretty sure about. There was this scene when the two protagonists are in the cable car on the way to the peak or ground of the Namsan mountain, in the night, during winter time, completely alone. After I spend nearly half an hour standing in line for the cable car, in a heart of heat and an occational whiff of the airconditioning, I already survived my very own Korean Drama. It was definitely not like in the series! Anyway, we had quite a good view over the city from the cable car. 
I knew there would be love locks hanging on the fences at N Tower, it turned out  that these locks were hanging everywhere. I've never imagined that there would be so many of them. To see this was one of the most important things on my bucket list, but we did not hang our own love lock somewhere, because we would never find it again. 
We went back by feet, not only because it's cheaper, but also because there are some platforms you can have a great view over Seoul.