With the first sunbeams, the silver fog veils and brings out bright yellow broom and gleaming lilac heather. Here, wild dartmoor ponies romp around the weeping cows, which lay calm and, somehow majestically, amidst the endless landscape. Not far from the woods, whose mystic aura was an inspiration for many legends. Where the moss spreads over soil and tree trunks and waterfalls almost sink in the midst of the many green tones.
If I were up to write a book with a setting in the Dartmoor, that would probably be the description of the scenery in which the action took place. But instead of writing books, I prefer to write reports about traveling in an incredible beautiful landscape. In Dartmoor you can easily spend a whole day, with or without children, only you shouldn't have problems with walking.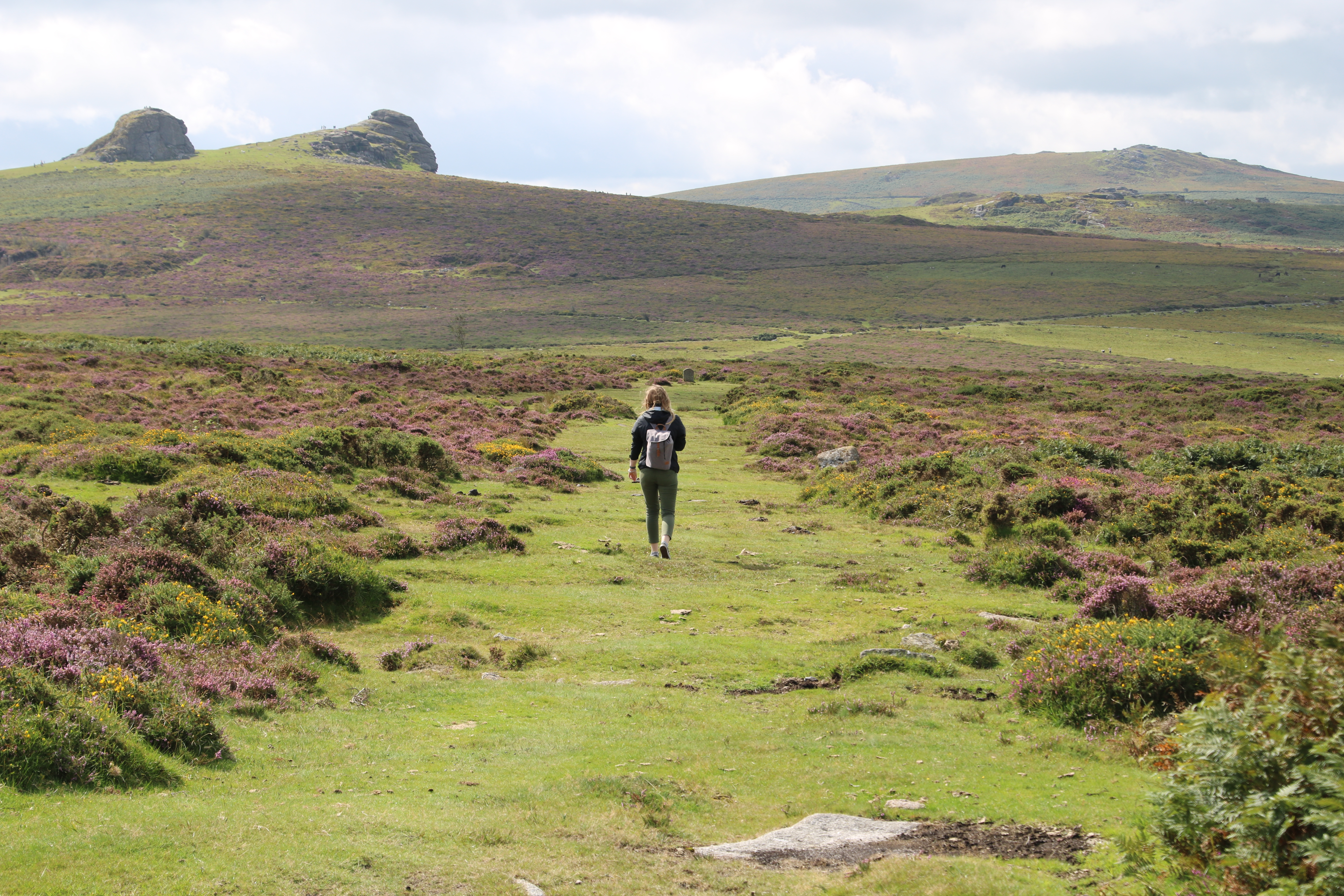 Hiking in the Dartmoor
Our hike began at the Haytor Visitor Center, as it is closest to Torquay. Here you also get hiking maps in all price ranges, we decided for a cheap one with three route options. At a 7 kilometre walk we should experience the diversity of the Dartmoor, which sounded great, so we were up to the first pint: the Haytor Rocks. There, the gray sky faded a bit, but it was not really warm. We looked at the map and noticed that there are no signposts or something similar in the Dartmoor and the discriptions of directions on our map were also rather poor. Anyone who has read other posts about my hiking trips, knows what is coming. Of course we got lost!
But being lost can lead to some great experiences, like having lunch with a Dartmoor pony. 
After a quick look at Google Maps, we decided to walk to the Beckey Falls, which I mistakenly considered as simple waterfalls. After paying the unbelievable high entrance fee of £8.50, it turned out to be a mixture of a children's attraction with a petting zoo and a path to a waterfall. In my opinion, no one really needs to see this place.
After this disappointment we chose to walk back to our car and drive back to Torquay after about 14 kilometers of hiking.
But the hiking day was not over.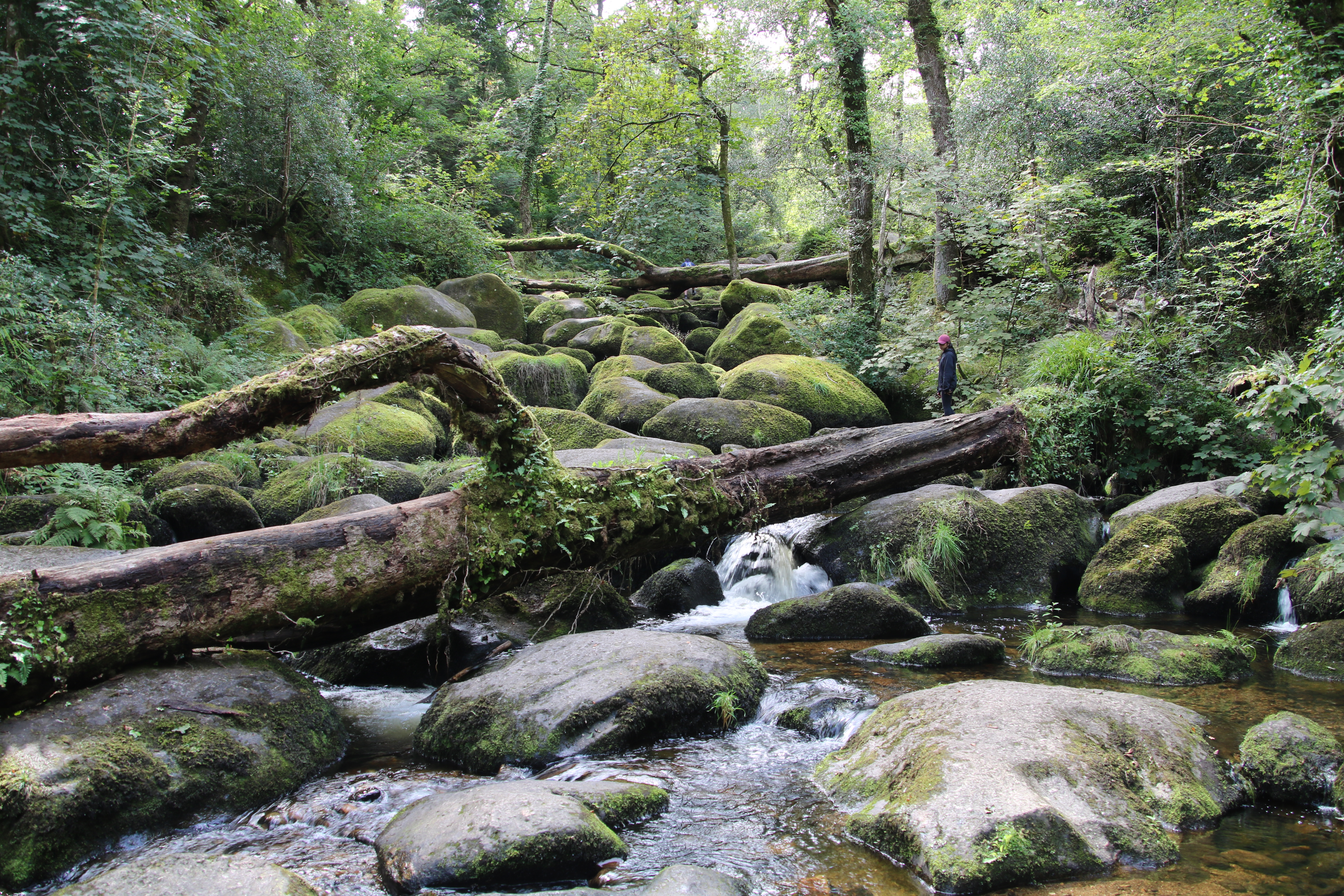 Tiere im Dartmoor
What absolutely astonished me is the animals that live here. Dartmoor ponies that reach to my waist are grazing here with cows that don't let themselves be disturbed by humans. The animals are very friendly, but you should not forget that this is not a petting zoo. If they are annoyed, they will show you or maybe walk away and then you should leave the animals alone. After all, this is their home and we tourists are the visitors. We should respect this.
Most cows have brands in their ears, so they are domesticated and if you do some research you will find out that sooner or later these animals will end up on some plate. I'm sorry for the animals, but the life they have up to then is a real privilege in contrast to the life of many other domesticated animals.
Why you should visit the Dartmoor
The Dartmoor is as divers as its inhabitants and its visitors. Anyone can find something fun to do here, may it be hiking, mountainbiking, visiting museums or just relaxing. I am also pretty sure that you can have a splendid time here with children too.