Hamburg is one of the most beautiful cities I've ever seen in northern Germany. This city is so divers and offers a lot of activities for everyone, no matter what you are interested in and what weather we have. So if you come here as a tourist, there are a few things I can really recommend to do here, in case the sun is shining and you like to spend a day outside.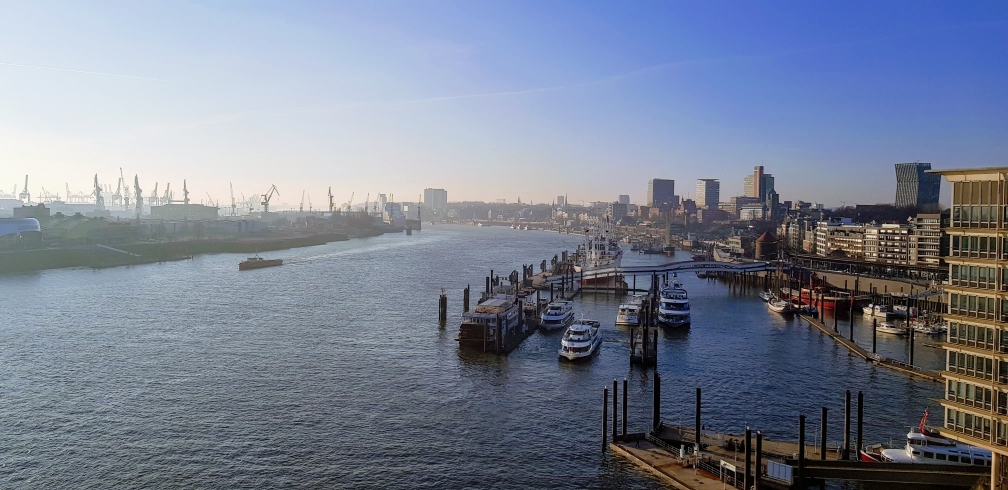 Take a look from the Elbphilharmonie
If you want to have a great look over the Landungsbrücken and the harbour, you need to visit the Elbphilharmonie. It is at subway station Baumwall and easy to reach from any part of the city centre. Here you can step on an outside platform, called Plaza, which is 37 metres above the the floor and for free. However, the amount of people allowed to go on the Plaza is limited, so I can really recommend to come here on a work day or to book a Plaza ticket online ( for 2€). 
Walk along Speicherstadt and Landungsbrücken
This is something you can easily connect to visiting the Elbphilharmonie. The Speicherstadt is right next to it and is the largest warehouse district in the world. Here you can also find the Miniatur Wunderland (miniature worlds).  This part of the city is also an Unseco World Heritage and most boat trips include a tour through the canals of Speicherstadt. 

The Landungsbrücken are the starting point of most boat trips. On Sundays you can also find a free English boat tour here. If you are afraid of sea sickness and would like to stay on the ground, you can stroll along the little souvenir shops or enjoy typical food from Hamburg. This could be a Fischbrötchen or Labskaus, for something sweet I can really recommend a Franzbrötchen, which is our version of cinnamon rolls. 
Explore the old Elbtunnel
Most people of Hamburg have a picture of traffic jams in their mind when they hear about the Elbtunnel. The old Elbtunnel is way too small for most cars, and is the way for pedestrians and bike riders to come from one side of Hamburg to the other. Sometimes little vehicles use this tunnel as well. 
It isn't even half a kilometre long and you can decide if you want to use the lift or the stairs to go down. On the other side of the Elbe you will find a fantastic view on the skyline of Hamburg. There is also a board which explains what you can see. 
Party at Reeperbahn
People from Hamburg would never admit to have their parties at the Reeperbahn. But if you want it or not, most times you end up here. It is the entertainment and red-light district in Hamburg and an attraction to lots of tourists. In Hamburg we also call it Kiez. 
The street is lined up with restaurans, bars, clubs and at some point strip clubs, sex shops and brothels. But don't worry, it is quite a safe place, also for women. 
At one end of the street you can find the Spielbudenplatz. This is the place for many events such as streetfood festivals, public viewing or the St. Pauli Christmas market. 
The best shopping location
The Mönckebergstraße isn't far away from central station. Here you can find lots pf shops, restaurants and cafes. On sunny days many people come here to go shopping or meet friends and hang around. You can walk down the street until the end and find the town hall. A huge buliding with lots of space in front of it. If you are lucky you will find some bachelor parties or people who turn 30 (we have some weird traditions in Germany). Sometimes there are also demonstrations, art projects or the Christmas market. 
Have fun at the Dom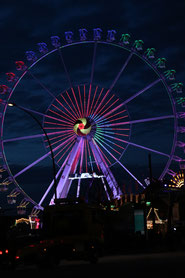 The Dom is like an amusement park, which takes place four times a year. It is a place visited by local people and tourists, who want to spend a few hours on roller coasters or meet to drink some beer or mulled wine in the colder months. You don't pay entrance for the dome, but at every attraction you visit. 
For tourists I can recommend to come during week days, because it won't be super crowded then. I also prefer night time, because of the many sparkling lights. 
Have you ever been to Hamburg or plan a trip? Let me know what you can recommend or plan to see.