*contains unpaid adverisement |
Inarguably, Weymouth is a beautiful town, especially the beaches. To be honest, I am not the kind of person, that spends hours at the beach. I prefer to see a lot of new things and experience something instead. So we said goodbye to Weymouth and an continued on our road trip. 
At this point the only thing I knew was, that Exeter has a beutiful cathedral. Although I didn't know much, I wanted to visit the city, because it is such a central point in South England. With a little Help of Google I found a few Sights. So we parked the car and waited until the heavy rain stopped. Our first destination were the Unterground Passages, an underground tunnel system, which I really wanted to see. We signed in for a tour in the afternoon and had some time left to esplore the city centre.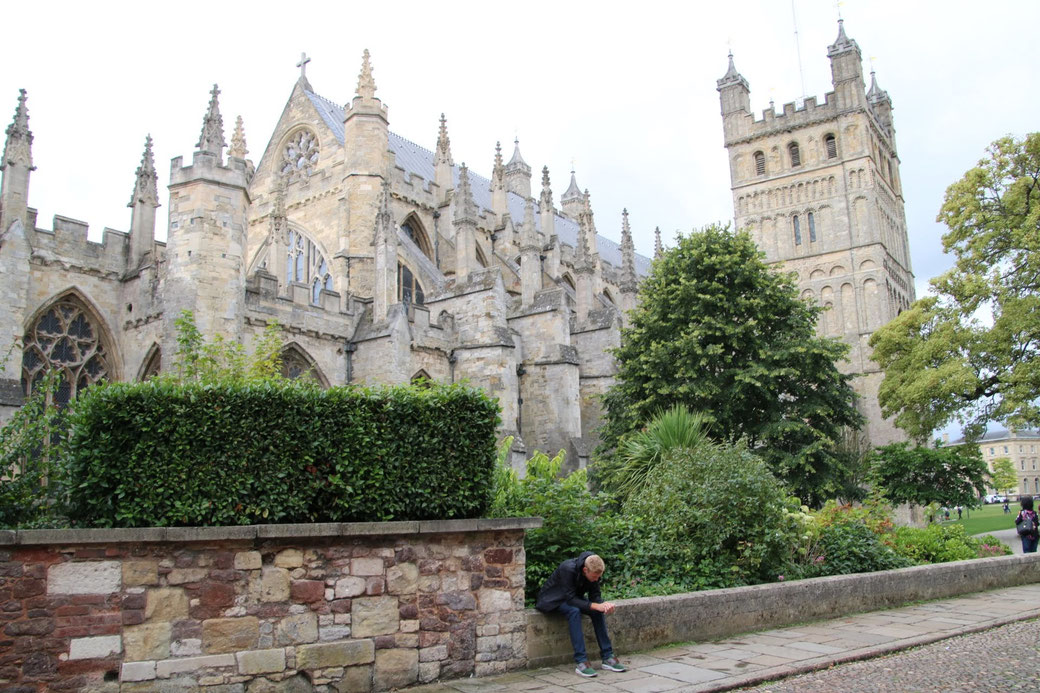 Looking at the cathedral from the outside
The cathedral was located within walking distance and looked quite imposing from the outside actually. The admission is £ 7.50 p.p. but I did not want to spend this amount of money for a cathedral. I do not know if there is something like a church tax in England like we have in Germany, but I'm pretty sure it has enough money. Let's be honest, most of the cathedrals look the same from the inside anyway, and that's just not worth the price for us.
In one of the small side streets leading from the shopping street to the cathedral, the smell of fresh pasties meet my nose and we decided to have lunche insted visiting the cathedral. I can recommend the spicy vegetable pasty.
Off to the tunnels
Later we finally went to the underworld of Exeter.
The tunnels were dug to provide the cathedral and a few wealthy citizens with clean drinking water, which was brought there by lead pipes. When I first heard about the lead pipes it made me a bit astound, but back then death from lead poisoning was unlikely. Cholera and other diseases transmitted via polluted water were much more likely instead. In medival, the pipes were maintained by children, who worked with only one candle and in rancid fat-dyed gloves. They were paid with beer as it was safer to drink.
So we put on our helmets and climbed down into the underground which was a challenge at 1.80m body height. We crawled along the corridors under Exeter until we found ourselves in a place where we could suddenly stand upright. It was the old city gate. On the way back we could decide if we wanted to crawl along one of the very old tunnels on all fours, which I did not miss.
For this experience, I can make a very clear recommendation for everyone without knee or back pain!
What else would Exeter have to offer?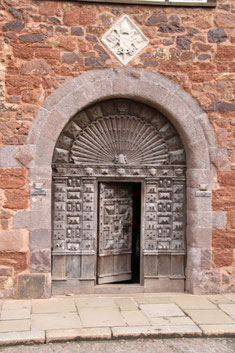 Exeter is perfect for shopping. In the city center, there a lots of shops along the street and I'm sure that you can find a bargain there.
If you want to enjoy a coffee or a beer in the evening, you should not miss the Exeter Quay. The historic harbor complex is filled with cafes, restaurants and small shops. Also galleries and handicraft shops can be found here.
If you want to have a look over the city you may get it from the cathedral's tower. But I am not really sureif this is possible at any time.
I am sure that there is so much more to see and do in Exeter, but for us, after half a day we went to Torquay.